Fiverr is a relatively simple website, but it's a good idea to familiarise yourself with the Fiverr dashboard when you first sign up. This article will go through each of the sections of the website in turn, so you know what everything does. Let's start with what you'll see when you first log in!
The Fiverr Dashboard
When you log in for the first time as a seller, you should see something like the image above. Here you'll see things like your inbox on the left-hand side, along with some basic information about you. The box on the left displays some handy metrics that allow you to keep track of your seller level. You can see in the circle with my picture that I'm a Level Two seller.
The Navigation Bar
Up at the top of your screen you'll see a navigation bar, and this part is important. This is the navigation bar you'll use to get around the platform. It gives you access to the most important areas of the site. Starting from the left-hand side we have the dashboard button, which takes you to where you currently are.
Clicking on the Messages button opens up your inbox and notifications. You can go between the two, with the inbox being where you'll communicate with your clients and the notification space where you'll find things like order details and updates about your seller level.
The Orders button takes you to a page where you can see all of your active and completed orders, as in the image below. From there you'll be able to access your active orders and view past ones as well.
The Gigs button will take you to a page where you can – you guessed it – manage your gigs. This is one of the most useful buttons on your Fiverr dashboard!
Analytics and Earnings
Clicking the Analytics button will take you to a page where you can see how you have been performing on Fiverr. You can find out more about that page by checking out our article all about using Fiverr Analytics. The Earnings button will take you to a page that shows you how much you've earned and it's also where you can withdraw your Fiverr earnings. Sandwiched between these two is a button for promoting your gigs.
The Community section is where you can find information about Fiverr events and their blog. You'll also find the forum, community standards and the Fiverr podcast under the Community tab as well. These are useful for beginners that want to learn more about using the platform, but it's a section of the Fiverr dashboard that you probably won't use too often.
The More button opens up to 4 more options (although the first, marked Buyer Requests, is no longer in use). The only other thing you might want to pay attention to here is the Contacts button. This is a quick way to see everyone you've been in contact with, without having to go through all of your messages.
The Scale Your Business button gives you a link to promote your gigs on social media. Below that you have the Learn section. Clicking on this will take you to a dashboard with lots of different Fiverr courses offered by an array of experts in various fields. The final button on this navigation bar is the Switch to Buying button.
Fiverr Dashboard for Buyers
The image below is probably going to be what you first see when you look at the Fiverr dashboard as a buyer. The gigs at the bottom will be different, as Fiverr uses this section to promote various gigs and it will be different for each person, and they change it up every so often too.
You can use the Find Services search bar to find freelancers directly. However, you can also use the categories on this page to find something you need. Hovering over them will give you access to a bigger list of subcategories to choose from.
The explore button up at the top opens up to give you access to similar things that the Community tab gave you on the seller dashboard, with the addition of some guides and a Discover function. This section showcases some of Fiverr's top freelancers.
You can check your messages using the Messages button, while the Lists button takes you to a page with all of your favourited gigs (if that's something you do), which is useful if you're a frequent buyer on Fiverr. Next to that is the Orders button, which shows you any orders you have in progress as a buyer.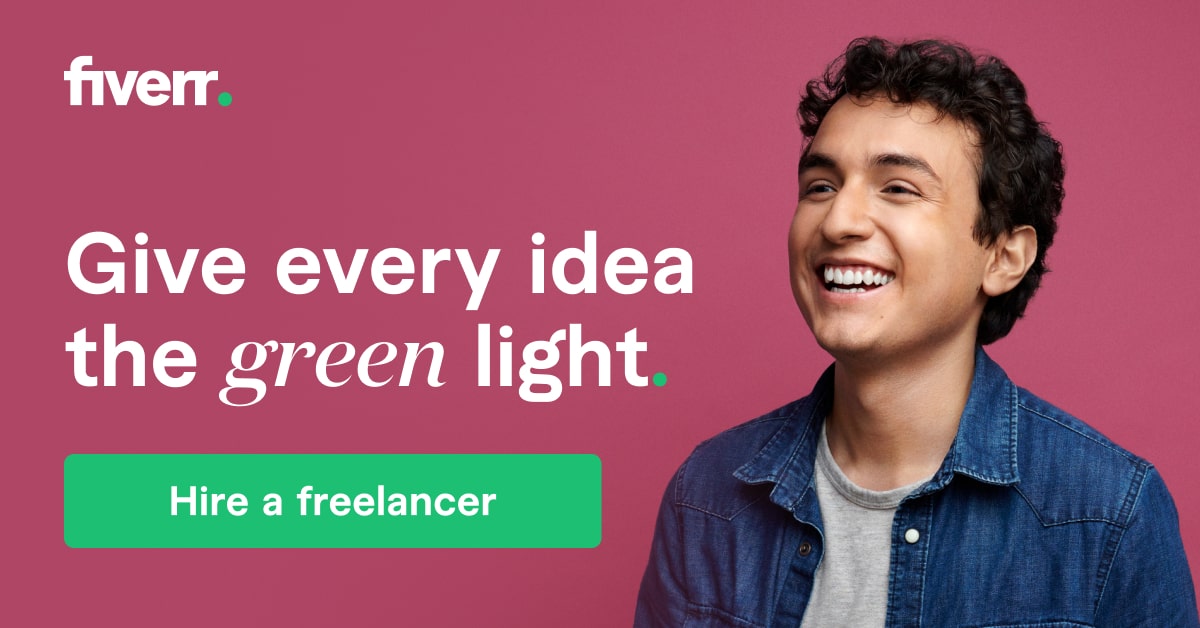 Your Profile
If you click your profile picture, you'll see some other options like those in the image above. There's a quick link to your profile and a way to manage requests and to post one yourself as well. There's an option to refer a friend, change currency, log out and get help and support if need be. The Settings button takes you to a page where you can change things like your email address and password, and you can change your notifications settings as well. It's also where you'll find tax information, under the Form W-9 button.
The Footer
Finally, let's take a quick look at the footer.
This is where you'll have quick access to the different categories, regardless of whether you're in buyer or seller mode, along with important things like the privacy policy and Terms of Service. If you can't find something, check the footer. It's got lots of useful links, so it's worth briefly familiarising yourself with it.
That's it for the Fiverr dashboard! If you want to learn more about using Fiverr to make money, check out my other articles all about using the platform here.