If you're running a small business, Fiverr is a great place to find skilled freelancers offering a range of services. You can use the platform to outsource those tasks you don't have the time or skills to do yourself. Knowing how to use Fiverr for your business is key to freeing up your time so you can focus on building and growing your business.
To use Fiverr for your business, you need to register with Fiverr. This automatically opens a buyer account. You may also want to subscribe to Fiverr Business to access vetted freelancers and collaboration tools. Once you've signed up, you can search for the right freelancer for your task.
In this article, we take a look at how to use Fiverr to grow your business, including what you can and can't outsource. We also look at the additional features of Fiverr Business and whether it's right for you. But before we start, let's give a quick explanation of Fiverr terminology.
Useful Fiverr Terminology
Some terms frequently used on Fiverr:
A "seller" is a freelancer offering their services
A "buyer" is a person or business buying a service
Sellers create "gigs" or offers that describe and price their service
Now that we're familiar with these terms, let's take a look at Fiverr for businesses.
Fiverr For Business Pros & Cons
| | |
| --- | --- |
| PROS | CONS |
| It's a great way to outsource basic tasks | You may need to do more vetting of potential freelancers if you don't use the business account |
| You can create a business account and make use of Fiverr's vetting process | A Fiverr Business account costs extra |
| There's a freelancer on the platform for every job you can imagine | You can only communicate with freelancers through the platform |
| It can be a flexible way to hire new people for your projects | |
| Fiverr uses a ranking system to help you differentiate between freelancers | |
Is Fiverr Good For Businesses?
Fiverr is good for businesses because you can find freelancers to help with a specific project or aspect of your business. Fiverr is an ideal place to outsource the tasks you don't have the time or skills to do yourself. This allows you to focus on building and growing your business.
Fiverr is a flexible way to outsource recurring tasks. You can use the platform to connect with freelancers with specific skill sets and different levels of experience. There are some dos and don'ts when it comes to outsourcing on Fiverr though, but let's first consider some of the benefits of using the platform to delegate tasks to others.
It's Ideal For Outsourcing Repetitive Or Time-Consuming Tasks
When you're running a business, you should be focussing on the more strategic aspects of your business and business development. Using Fiverr to outsource smaller administrative or time-consuming tasks allows you to spend your time managing your business.
These could involve data entry or even data analysis. The tasks could be to produce copy for your website that you just don't have the time for right now. Or it could be to hire a personal assistant to do a variety of different tasks. You can find a freelancer on Fiverr for just about any task you can imagine, and basic admin-type tasks are some of the easiest jobs to outsource.
It's A Good Source Of Freelancers With Specific Technical Skills
In addition to the tasks you don't have the time to do, Fiverr is a great place to outsource the work you don't have the skills to do. If you're running a small business, chances are you don't have an in-house marketing department, graphic designer, or staff writers. But you can find freelancers with these skills sets on Fiverr.
Obviously you get what you pay for, and it's unwise to trust your next big marketing project with a new seller with no reviews just because they're offering the service for $5. But by doing some basic due diligence and shopping around on the platform, you'll be able to find dozens of suitable candidates to choose from.
Using Fiverr Is Flexible
You may not want, or be in a position, to hire a full-time employee. Fiverr gives you the flexibility to expand and contract your workforce as needed. This makes it ideal for one-off tasks or when you don't have the budget to hire an employee.
By using Fiverr, you may also find a freelancer who works well with your business and produces high-quality work. If this happens, you can continue to work with them on future projects through the platform. This is easy to do, and it takes the burden off you in terms of onboarding and training a new employee. This can often work out cheaper in the end.
Fiverr Sellers Offer A Range Of Experience (And Rates)
When looking for a Fiverr freelancer to help with a task, you'll find there is a range of experience levels out there. This means there's also a range of rates to suit your budget. Regardless of the level of experience you choose, always be sure to check the seller's rating and previous work.
As a business, it's wise to be aware of Fiverr's levelling system. Freelancers will have various ranks, and you'll see these in the search results. They are as follows:
New Seller – The freelancer has minimal experience on the platform, but this doesn't necessarily mean they're not the right person for the job
Level 1 Seller – The seller has been on the platform for at least a few months, and likely has some 5-star reviews you can check out from previous buyers
Level 2 Seller – They've been on Fiverr for at least 4 months, and have had at least 50 orders
Top Rated Seller – These sellers have made a decent amount of money on the platform (at least $20,000), but that doesn't guarantee you'll get the best value for money
While these levels are no guaranteed indication of the seller's quality, they serve as a useful guide of how long they've been using Fiverr. It's best to do your own due diligence no matter their level. This involves checking past reviews and reaching out to them before you press the buy button.
But not only is Fiverr good for businesses, but it also has several features designed specifically with small business clients in mind.
Can You Use Fiverr As A Business?
You can use Fiverr as a business in several different ways, including managing teams of freelancers completing ongoing work or for one-off projects. Fiverr recently launched Fiverr Business, specifically for small businesses sourcing freelancers through the platform.
Fiverr Business
The workplace has changed radically over the last few years. Remote work is now the norm, with teams collaborating across cities, countries, and the world. There has also been an increase in employees moving to freelance work, seeking greater flexibility. In turn, organisations have seen the advantages of a mobile workforce.
Fiverr developed Fiverr Business in this context. It's designed to service small remote teams by offering additional tools to manage freelancers and the project they're working on. It allows you to access collaboration tools, vetted freelancers, and a personal executive assistant service. Let's take a closer look at each of these features.
Centrally Manage Your Projects And Fiverr Freelancers
Fiverr Business offers several collaboration tools that conveniently centralise communication, workflow management, and payments in a single dashboard. This helps you to seamlessly integrate the Fiverr freelancers you hire into your existing workflows and core team. You can add up to 50 co-workers to your account so they can also collaborate with the Fiverr freelancers.
With Fiverr Business, you can also save the profiles of freelancers you want to work with again in the future. This makes it super easy to keep track of the many freelancers you might have working on various projects.
Access To Vetted Freelancers
The other aspect that distinguishes Fiverr Business from the standard Fiverr platform is in its vetted freelancers. Before a freelancer can advertise their gig, Fiverr Business' AI tools and customer success team review and approve their application.
Fiverr Business freelancers must meet several criteria, including a level of professionalism and knowledge in their field. Fiverr expects vetted freelancers to offer a high level of service to their professional clients, exceeding expectations when it comes to the work product.
As a result of this process, you can expect a high standard of work and reliability from the freelancers available on Fiverr Business. This can make it a smoother process than just using the standard Fiverr interface to hire freelancers.
Access To Fiverr Personal Executive Assistants
By signing up for Fiverr Business, you'll have access to Fiverr's personal executive assistance service. This service helps with project management, administrative tasks related to your account, and finding the right freelancer for the job. It's also conveniently available 24/7.
If you think any of these features would be useful to your business, then Fiverr Business is for you. It's a great way to supplement your core workforce with freelancers anywhere in the world and ensure projects run smoothly.
And the good news is, Fiverr Business is currently running an offer on its subscription fees.
Is Fiverr For Business Free?
Fiverr Business is free. An annual subscription used to cost around $149, in addition to gig fees. This meant that you would need to pay an additional fee to make use of Fiverr's vetting system. However, Fiverr abolished this charge, making Fiverr Business free for all users.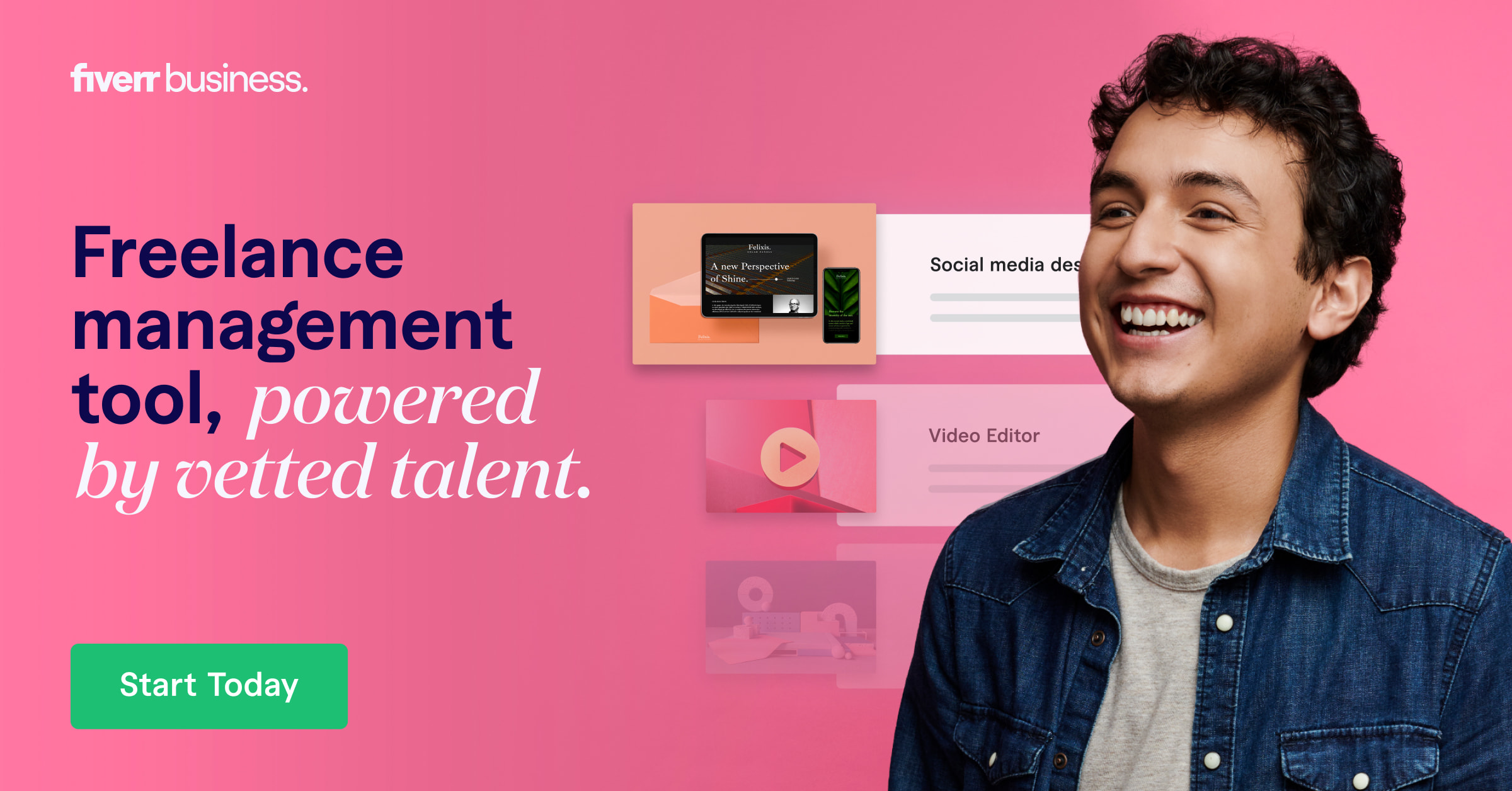 What Is The Difference Between Fiverr Business And Fiverr Pro?
If you already use Fiverr, you may have come across Fiverr Pro. While Fiverr Business is a platform for teams to collaborate with Fiverr freelancers, Fiverr Pro is a ranking given to some of the best freelancers on the platform in a given niche. If a freelancer has been verified by Fiverr Pro, their profile displays a Pro badge and a list of skills.
Fiverr Pro is only available for certain categories of freelancers, including graphics and design, writing and translation, and digital marketing. Freelancers can advertise gigs in any category on Fiverr Business.
Can You Sell On Fiverr As A Business?
You can sell as a business on Fiverr. Fiverr is an excellent way to offer your services and keeps the costs of starting a small business down. It's also ideal for finding both short-term and ongoing clients as you grow your business.
Many sellers on Fiverr run their own business, using the platform to connect with clients and supplement other income streams. Some freelancers, particularly the Top-Rated Sellers, operate their business exclusively on Fiverr.
As well as the standard Fiverr platform, Fiverr Business allows both individual freelancers and agencies to advertise their gigs.
Using Fiverr to sell your services is a great way to keep overheads down as you grow your business. You can access a pool of international clients with a range of budgets looking for many different types of services. It also allows you to build long-term working relationships with the clients you connect with on Fiverr.
How To Outsource On Fiverr
Fiverr is user-friendly and simple to use. It's quick and easy to find a freelancer and outsource a task on it. To outsource on Fiverr, using either Fiverr Business or the standard platform, you need to:
Search for a gig that suits your needs
Review and compare the gigs, as well as seller ratings
Communicate with the seller to confirm they're the right person for the job
Buy the gig
When outsourcing on Fiverr, it pays to keep several things in mind. Following these guidelines helps to ensure a successful and positive collaboration with a seller.
Be Clear About What You Need
If you can explain to the seller exactly what you need, they are more likely to give you what you want. It's a good idea to provide them with any additional information that may help the seller understand what you need. Doing so helps them assess whether they are the right person for the job. By clearly communicating your expectations at this early stage, you minimise the risk of issues arising later.
Aside from letting them decide if they're right for the job, giving them all the info upfront also just minimizes the chances of you requiring revisions later down the line. This speeds up the entire process.
Communicate With The Seller Before Buying
This way, you can figure out whether they are the right person for the task. If you are unsure about any aspect of the seller's process or their ability to do the job, ask them. It's best to resolve these issues before buying the gig.
Most sellers will be fairly responsive when you ask questions, as they're trying to land a sale after all. Plus, with the seller levels we discussed earlier, freelancers are incentivised to reply to messages promptly and to be courteous to buyers.
Provide Them With The Info They Need
Once you've decided to move forward with someone, provide the seller with all the information they need to complete the task. This includes filling out the order requirements in detail and providing any further information that might help things go smoothly. Documents such as internal style guides or examples of previous work can be helpful too. Providing as much detail as possible helps the seller complete the job well.
Keep A Solid Line Of Communication
While the seller is completing the gig, keep in contact with them. The seller should be comfortable contacting you if they require clarification or further information. This ensures they complete the gig to a high standard, and again minimizes the chances of you requiring revisions.
What You Can Outsource On Fiverr
Fiverr is ideally suited for outsourcing:
Straightforward or time-consuming tasks
Tasks requiring technical expertise you don't have
One-off, discrete tasks
The range of services on offer on Fiverr is only limited by your imagination. If you can think of it (and it's within Fiverr's terms of course), chances are there's a gig out there for it. But there are certain types of work that are particularly suited for outsourcing on Fiverr.
These include tasks that are simple to explain or repetitive, time-consuming tasks, such as data entry. Fiverr is also good for outsourcing highly-technical tasks you're unable to do yourself, such as web design.
Examples of the type of work you can outsource on Fiverr include:
Graphic design
Content and copywriting
Digital marketing
Virtual assistance
Web design
Email management
WordPress work
Transcription
Translation
Video editing or production
Data entry
Outsourcing these types of tasks free up your time and business's resources, increasing efficiency and profitability in the long run. However, there are some types of work you shouldn't outsource on Fiverr.
What You Shouldn't Outsource On Fiverr
Fiverr isn't suitable for outsourcing:
Tasks that require decision-making or high-level strategy
Tasks that require a lot of initiative
Time-sensitive tasks
While Fiverr is ideal for outsourcing some tasks, you shouldn't use Fiverr for any work that involves decision-making or strategy. These sorts of decisions require a detailed understanding of your business' circumstances and direction. By the time you communicate this information to the seller, you'll often find it's quicker to do it yourself.
Strategic decisions may also involve an element of risk. It's unreasonable to expect a Fiverr freelancer to be able to assess all the relevant factors and make the right decision. Similarly, if a task requires a lot of self-direction or initiative, Fiverr may not be the place to look for a freelancer.
It's also not a good idea to use Fiverr freelancers for highly time-sensitive tasks with inflexible deadlines. While there are processes in place to minimise it, there is a risk of finding an unreliable freelancer who fails to deliver the work product. This is especially true when there's a tight turnaround.
If you need a task done within a very short time frame and there are serious consequences for failing this, it may be best to do it yourself.
There are also some specific tasks you should completely avoid outsourcing on Fiverr.
Never Outsource These Tasks On Fiverr
You should never use Fiverr to outsource:
A task that violates Fiverr's terms of service. If you do so, Fiverr may block you from the platform.
Buying backlinks, followers, likes, or subscribers. The algorithm can detect these as spam and penalise your ranking in the SERPs
SEO work (or any other kind of work really) where the freelancer promises unrealistic results. These gigs often see sellers use black hat SEO techniques or other frowned-upon processes that harm your business in the long run.
Fiverr is a great way for your business to find freelancers to help with a range of tasks. But before you do, make sure it's the type of work you can outsource on Fiverr.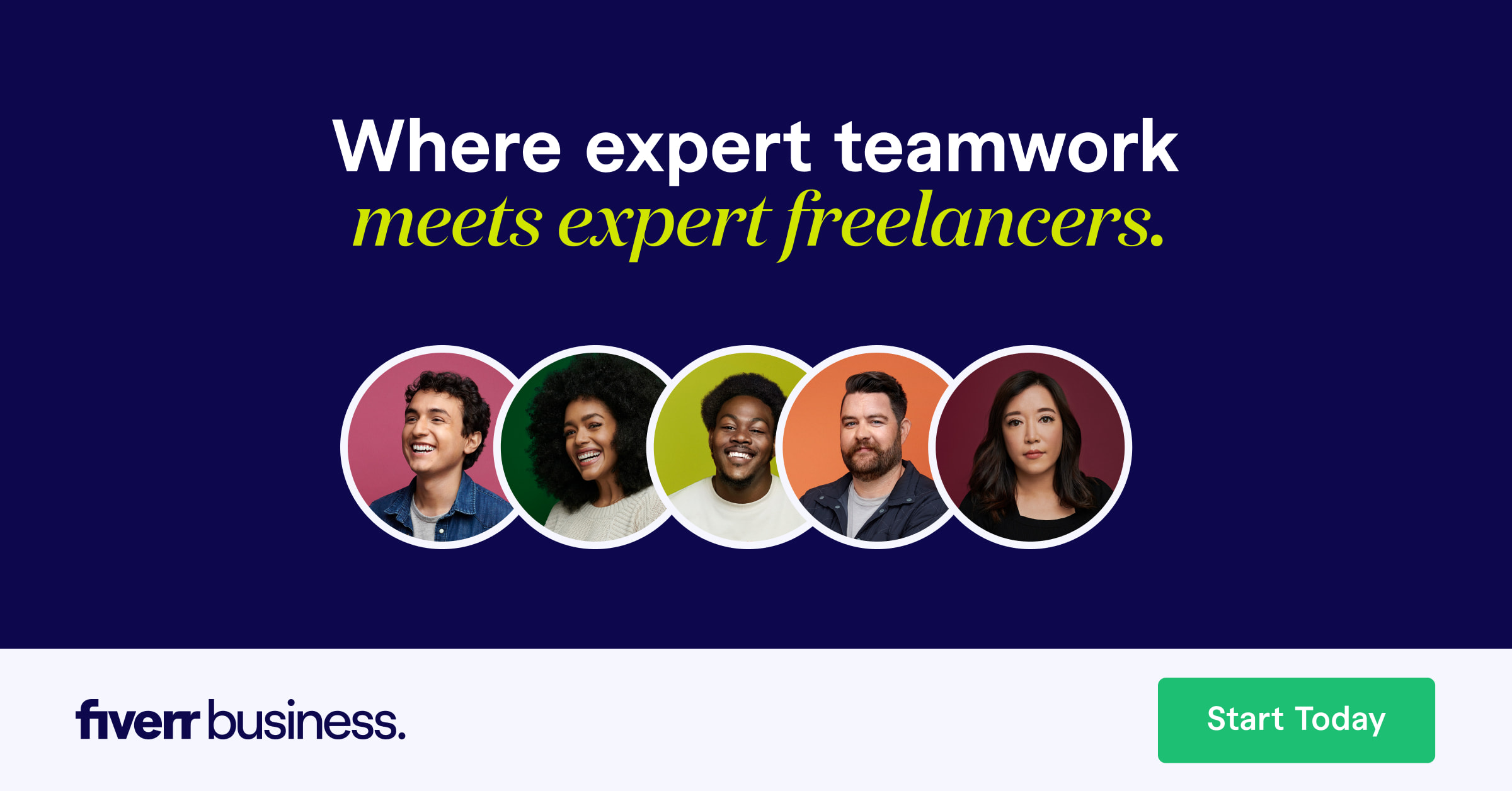 Final Thoughts
Fiverr is a great platform for businesses to find skilled freelancers and outsource work. Fiverr Business is especially good for outsourcing time-consuming projects or tasks requiring skills you don't have. It also gives you access to vetted freelancers. By using Fiverr Business to find freelancers, you free up your time to focus on building the foundations and expanding your business.