For many, a 9-5 job is a nightmare. This is why many people turn to the world of freelancing to make money on their own terms. Fiverr and Upwork are two of the most popular websites for freelancers looking for new opportunities. But which one is best for you when it comes to Fiverr vs Upwork?
In this article, we've compiled the main differences between Fiverr and Upwork when it comes to prices, quality, customer support, and more, to help you decide which one will help you meet your freelancing goals. Let's start by giving you a brief overview of the two platforms.
What Is Fiverr?
Fiverr is a website designed to allow freelancers to advertise and sell any type of skill. If you're a customer looking for someone with a specific set of skills, you will likely find them on Fiverr. And if there's any kind of service you can provide as a seller, you can easily earn money from it.
You can create an account for free, and offer up to seven gigs. You can increase this, and gain more benefits, by progressing through Fiverr's levelling system. Fiverr allows you to control how much you want to charge, set up different price ranges for your gigs, and even choose if you want to charge extra fees, depending on what you're selling.
The more you sell on Fiverr, the more the platform rewards you with more traffic, which leads to more orders.
What Is Upwork?
Upwork is a website where freelancers can earn money from any service they provide. However, this website is more focused on higher-level gigs and oriented towards larger businesses and long-term projects.
It's free to set up an account, but you can upgrade it from the free account to a Freelancer Plus account for $14.99 (about £10.80) per month. This will allow you to get more Connects (more on these below), customize your profile URL, make your earnings private, along with some other perks. There's a similar upgrade option available for buyers for $49.99 per month, but this article will focus on using Upwork as a freelancer.
If you're successful on Upwork and can gather great ratings, you can become a Top Rated freelancer. This reward gives you reduced fees, faster payments, and premium customer support, plus a neat badge that you can display on your profile to show off to potential clients!
Now that you have a rough idea of what each platform is like, let's find out who wins in the battle of Fiverr vs Upwork.
Fiverr vs Upwork – Setting Prices
Fiverr
When Fiverr first appeared back in 2010, all gigs had a fixed price of $5, hence the name of the website. In 2015, things changed, and you can now set prices from $5 to thousands of dollars if you really want to. Plus, you can offer various different packages under each gig, and offer extra charges for bonus services too.
Upwork
On Upwork, when you're setting up your profile, you have to state an hourly rate for your work. The price is completely up to you and how you evaluate the quality of your work. When looking for gigs on the website, you'll notice that in every post clients include an estimate of an hourly rate or fixed price. If you're successful, you'll then negotiate your rates with the client.
Depending on the client, you may get a gig where you get paid in full upon completion. Or you might get paid by milestones (you'll have to continuously submit pieces of the work at different dates). Finally, you may instead need to use the Diary Work tool to track your work.
Verdict – Fiverr
Fiverr vs Upwork – Fees
Fiverr
For freelancers, Fiverr charges a flat 20% fee of the total order price. This means that if you price a gig at $100, you'll receive $80 upon completion. This rate is the same no matter what level of seller you are, and no matter what services you offer. There are varying fees if you're a buyer.
Upwork
Upwork fees are a little bit more complicated to keep track of, but here's a summary:
For the first $500 you receive, Upwork charges 20%
Between $500.01 and $10,000 of total revenue from each client, Upwork charges 10%
When your total revenue is above $10,000.01, Upwork charges 5%
Note that these rates are on a per-client basis, over the lifetime of your relationship with that client. This means that if you receive $600 from a client in one order, you're charged 20% on the first $500 ($100) and 10% on the last $100 ($10) for a total of $110 in fees, and $390 goes to you.
If you then go on to earn more money from that client, you'll be charged a fee at the rate of 10% until you earn $10,000 from that specific client. Beyond that, your rate decreases to 5%. You'll still be charged the 20% rate for other clients below the $500 threshold. This makes it beneficial to strike up a strong, long-lasting relationship with a few clients.
Verdict – Upwork
Fiverr vs Upwork – Account Upgrades
Fiverr
The only way to really upgrade your Fiverr account is to apply for Pro status on your specific gigs. It's not strictly an account upgrade, as the status only corresponds to the specific gigs you apply for. With Pro status, your gigs are listed in a separate "Pro" section that only features the best professionals on the website. Plus, you'll be able to charge more and attract bigger clients.
Setting up a Pro account is free, but you need to submit an application that gets reviewed by the Fiverr Pro team. They evaluate your experience, reviews, and gigs, along with your communications with previous buyers, and other important aspects to see if that specific gig is eligible for Pro status.
Upwork
Upwork has a Plus upgrade available to freelancers and another one for clients. For $14.99 (about £10.80) per month, an Upwork Freelancer Plus membership sets freelancers up with benefits that include a custom URL, insight on competitor bids, keeping your earnings confidential, and receiving 80 Connects every month instead of 10 (we'll discuss this topic later on in the article).
Upwork Plus for clients costs $49.99 (about £36) per month and is directed towards clients with small businesses that provide a steady flow of work and that need access to upgraded tools. These include better reporting, premium customer support, dedicated account management, and 15 freelancer invites per job post.
Verdict – Fiverr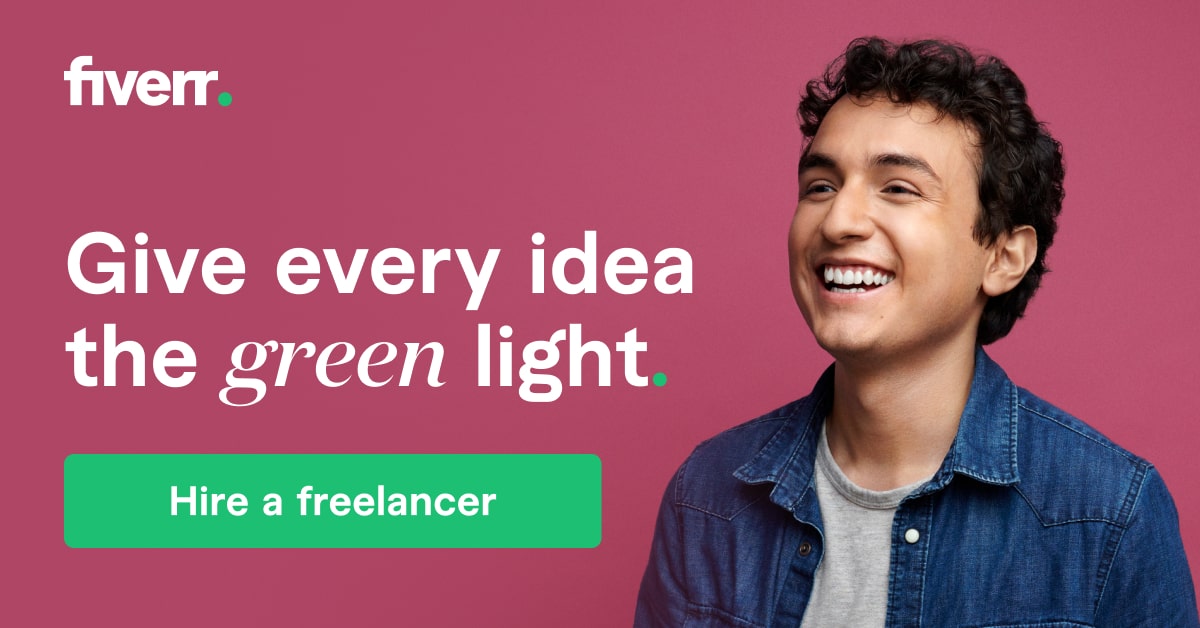 Fiverr vs Upwork – Ease of Use
Fiverr
It's really easy for clients to find potential freelancers on Fiverr. You search by using specific keywords or by choosing one of the tabs corresponding to the category of work you're looking for. Once you click on a category, a list of sub-categories appears for you to dig through, in case you need something more specific.
Clients evaluate whether they like a profile and decide if they want to buy a service or not. It's really a case of the buyers going to the freelancers.
Upwork
On Upwork, you can search for Talent, Jobs, and Projects. Talent shows you freelancer profiles, Job search shows you job listings that you can apply to as a freelancer, and the Projects search shows you specific pre-defined services that you can buy (very much like what you find on Fiverr).
Another feature that distinguishes Fiverr from Upwork is bidding on projects. Every month, freelancers receive "Connects". When you're applying for a job or project you have to bid some of your Connects (as many as you want, depending on how many you have) in order to show the client that you are committed and interested in the job. Bidding takes time and you have a limited number of monthly Connects (with the basic plan you only get 10 per month).
Verdict – Fiverr
Fiverr vs Upwork – Quality of Work
Fiverr
Aside from the Fiverr Pro members that Fiverr's Pro team personally evaluates, all other freelancers are free to present themselves as they want, without any real vetting or assessing. So, you're likely to find great workers along with some not-so-great ones. The challenge is effectively telling them apart before placing any orders!
Upwork
Upwork tends to have freelancers that are a bit more experienced because the platform verifies your skills when you're creating a profile. Plus, every freelancer has a Job Success Score (JSS) that accounts for feedback, rehires, and cancelled projects. The higher your JSS the more likely you are to stand out on Upwork. This explains why clients might prefer using Upwork to search for freelancers for long-term work.
Verdict – Upwork
Fiverr vs Upwork – Setting up an Account
Fiverr
Creating a profile on Fiverr is quick and easy. You first have to fill out some information about yourself. Then, you just create your first gig so that you can sell your skills. You must choose a title that follows the fixed expression "I will…" For example, "I will write your blog posts for you." Then you just have to choose a category and determine your prices, price ranges, and extra fees depending on what you're selling.
You also set up a profile where you tell prospective buyers a little more about you, and you can take some optional tests if you want to add some extra credibility to your profile.
Upwork
On Upwork, instead of creating a product for someone to buy, you create a profile that's all about you. You then find and apply to jobs you want to work on. This profile contains your qualifications, skills, relevant experience, hourly rate, and portfolio. You can also add certifications that are important for your work, and you can even take some tests — the Upwork Skill Certification tests (only available for some skills) — to prove that you're proficient in your chosen skills.
Verdict – Tie
Fiverr vs Upwork – Safety
Both platforms are safe to use. They use encryption, along with other data protection measures to ensure things like your payment information is never comprised. However, you should still follow some basic cybersecurity measures, like keeping your passwords secret, only uploading the necessary personal information, and keeping all communications and payments on the platform you're using.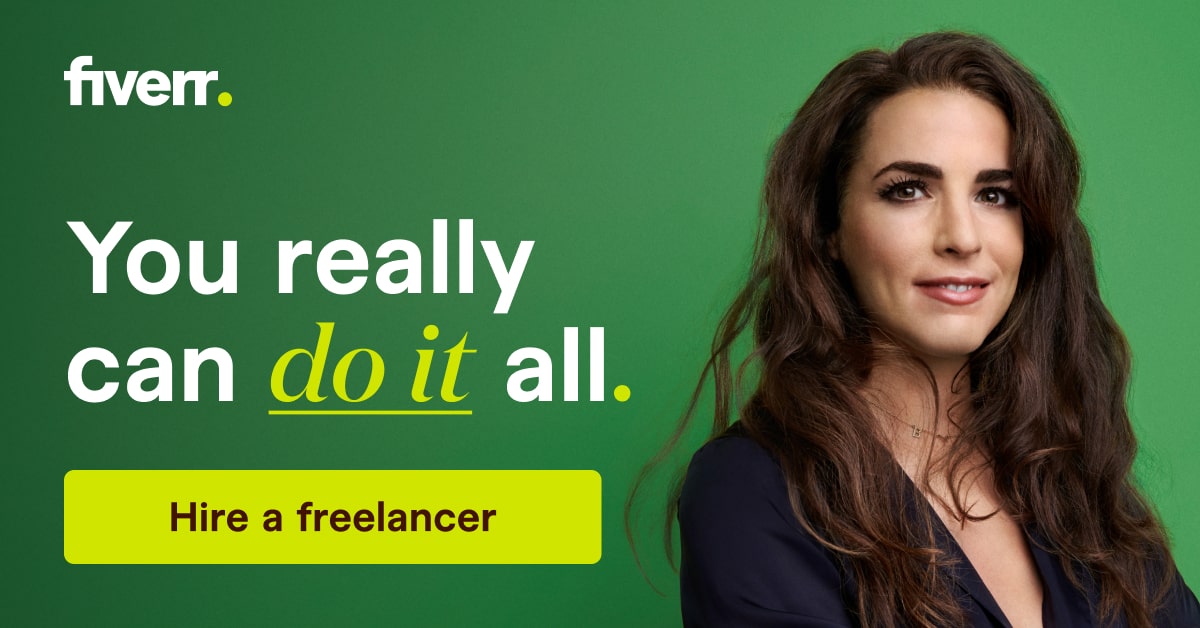 Fiverr vs Upwork – Which Should You Use?
Fiverr
If you're looking to offer smaller, faster jobs at lower price points, Fiverr is the best choice. It's a great way for you to get jobs quickly and build up a portfolio if you're just starting out as a freelancer. You decide what you want to sell, how much you want to charge, and how much you want to work. However, it definitely still takes a lot of time and effort to become successful on Fiverr.
Upwork
The same goes for Upwork, which is better suited for long-term, steady work. Because of the way it verifies and rewards skill and experience, Upwork generally attracts higher-skilled freelancers and clients who are willing to pay more. Upwork also has a more professional feel as it allows the clients to interview freelancers before taking them on.
Check our other article to see how Fiverr ranks against Freelancer. We've also compared Fiverr vs PeoplePerHour.