Affiliate programs are a popular way to generate a passive income online. Like many online platforms, Fiverr offers an affiliate program that allows its users to earn commissions for promoting Fiverr's services.
Fiverr Affiliates is worth signing up for if you already have an audience who may be interested in Fiverr and its products. It's quick and easy to set up an account and start earning a commission via affiliate links right away.
This article takes a detailed look at Fiverr Affiliates, exactly how it works including commission rates, and how you can become a Fiverr affiliate.
Interested? Read on to find out more! First, let's take a closer look at Fiverr Affiliates.
What Is Fiverr Affiliates?
Fiverr Affiliates is Fiverr's affiliate program. It allows you to earn a commission by promoting Fiverr products and services, including Fiverr Pro, Fiverr Learn, and Fiverr Business. Anyone can join Fiverr Affiliates and it's free to do so.
After signing up for the program, you'll receive a unique affiliate link to promote via your blog, website, email list, or other social media account. Every time someone clicks on your link Fiverr registers them with your affiliate account. Fiverr pays you a commission every time a new buyer opens a Fiverr account and makes a purchase via your link.
Fiverr Affiliates pays a commission for referring buyers to any of Fiverr's services including:
Fiverr
Fiverr Pro
Fiverr Business
Fiverr Affiliates
Fiverr Learn
Fiverr Affiliates
Fiverr Workspace
If you already have an audience who may be interested in Fiverr services, then Fiverr Affiliate is a good way to monetize your platform.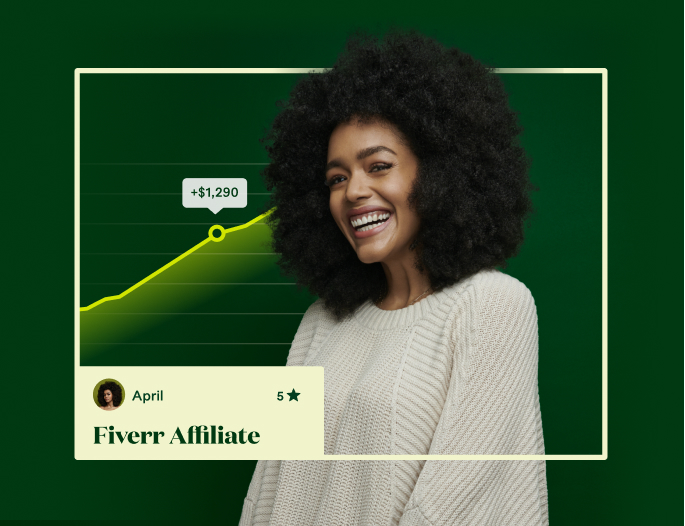 How Do Fiverr Affiliates Make Money?
Fiverr Affiliates make money by earning a commission every time a new buyer purchases a Fiverr service after clicking on the affiliate's link. Affiliates promote their links via their online and social media content.
The first step to making money with Fiverr Affiliates is to promote Fiverr's services on your platform. This could be on your:
Blog
Website
Email list
YouTube
Facebook
Instagram
Twitter
You promote Fiverr by incorporating your unique affiliate link into your content. When someone clicks on your link, Fiverr associates the buyer with your account. Once the buyer registers with Fiverr and makes their first purchases, you receive the commission.
One of the advantages of Fiverr Affiliates is that it uses tracking cookies on its affiliate links. So you can still earn a commission up to 12 months after a buyer clicks on your link.
Let's take a look at some of the ways you can promote Fiverr in your content.
How Do You Promote Fiverr as an Affiliate?
How you promote your Fiverr affiliate link depends on what platform you're using. Here are some ideas you can adapt to suit your blog or social media account:
Write a how-to guide that recommends Fiverr services
Write a Fiverr review
Write about your experience using Fiverr
Display Fiverr banner ads on your website
However, as a Fiverr affiliate, you can't use paid ads to direct traffic to Fiverr. Although you may use paid ads for your site or blog (which contains affiliate Fiverr links).
Just remember, like any affiliate program, you should be transparent about your use of affiliate links. Make sure you explain to your audience that you may earn a commission from any products bought.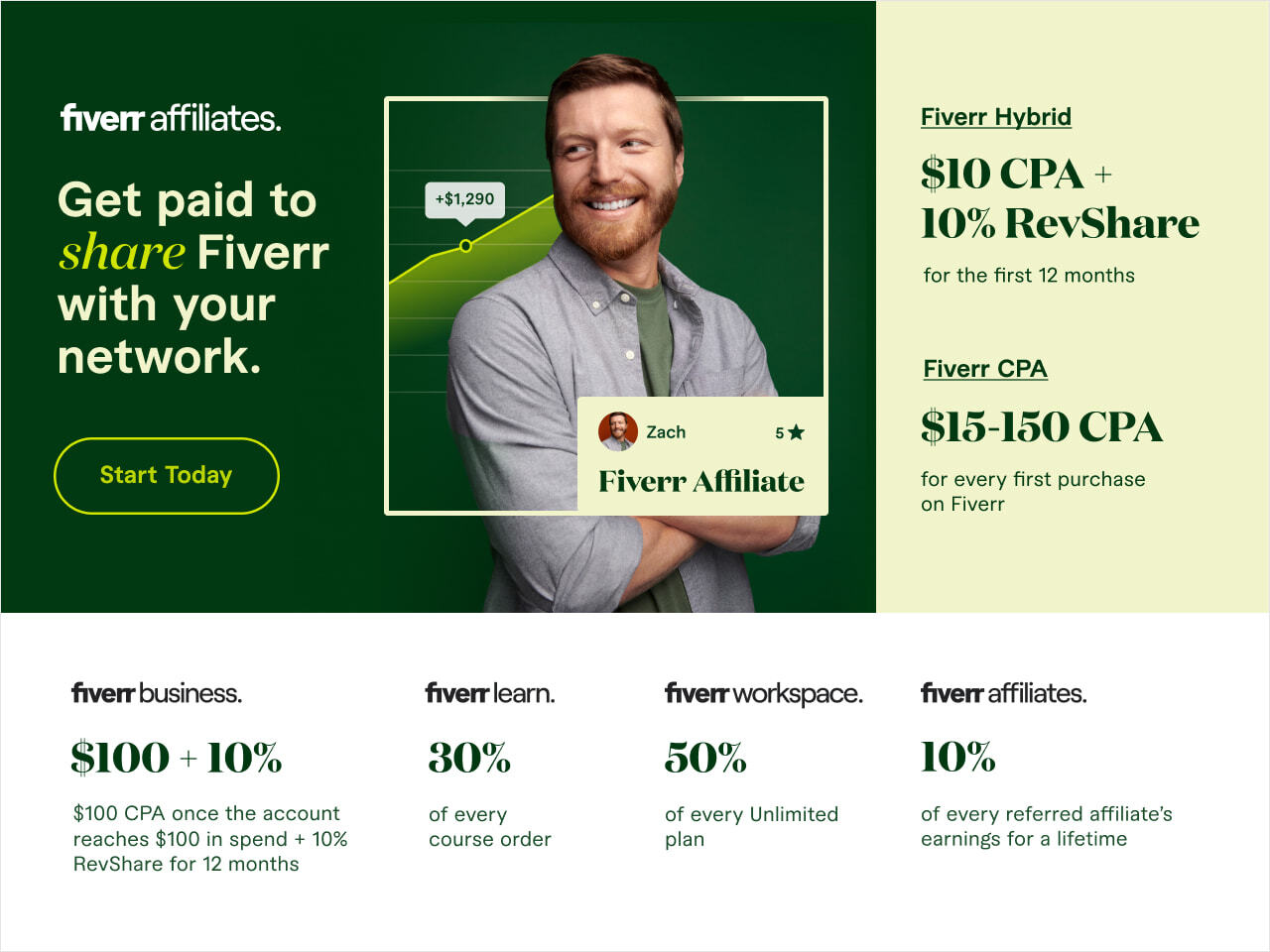 What Is the Fiverr Affiliate Commission Rate?
The Fiverr Affiliate commission rate depends on the type of service the buyer purchases via your affiliate link. For example, each time a first-time buyer purchases a voice over gig via your link, you'll receive a $25 commission. For a purchase on Fiverr Pro, you'll receive $150.
The most important thing to note about Fiverr Affiliates is that you'll only receive a commission for first-time buyers (FTBs). An FTB is someone who doesn't already have a Fiverr account.
Fiverr uses 3 commission structures for its affiliate program – cost per action (CPA), revenue share, and hybrid commission.
1. Cost Per Action (CPA) Commission
You receive a commission for every FTB who creates an account and buys a service through Fiverr. The commission rates vary depending on what service the buyer purchases, as set out in the table below.
2. Revenue Share Commission
This commission is based on a percentage of the order value.
3. Hybrid Commission
Fiverr's hybrid commission model combines CPA and revenue share commission. You receive a one-off $10 CPA for a first-time purchase, then a 10% revenue share for one year for every FTB. You can choose between the CPA and hybrid commission structure for certain services.
Fiverr Commission Rates
Service
Commission
Fiverr Pro (where buyers can purchase services from vetted, top-rated professional sellers)
$150
Fiverr Business (where buyers can manage teams of Fiverr freelancers and projects)
$100 (once the account spends $100), then 10% RevShare for 12 months
Fiverr Affiliates
10% of every referred affiliate's earnings
Fiverr Learn (where sellers can follow courses to develop their skills)
30% of every course
Fiverr Workspace (a client management tool for freelancers, formerly AND.CO)
50% of every unlimited plan
Fiverr (standard platform)
Industrial & Product Design
Data Science
Mobile Apps
E-Commerce Development
$50
Website Builders & CMS
Lyric & Music Videos
Web Programming
Data Processing
Architecture & Interior Design
Game Development
Website Design
$40
E-Commerce Product Videos
3D Product Animation
Logo Maker
SEO
T-Shirts & Merchandise
Research & Summaries
Business Consulting
Proofreading & Editing
Financial Consulting
Producers & Composers
$30
Illustration
Gaming
Articles & Blog Posts
Video Marketing
Social Media Marketing
Resume Writing
Voiceover
Short Video Ads
$25
All other categories
$15
How to Become a Fiverr Affiliate
To become a Fiverr affiliate, you need to sign up for a Fiverr Affiliates account. You can then start earning a commission on referrals right away.
You can sign up for Fiverr Affiliates in 5 easy steps:
Go to the Fiverr Affiliates page
Click on Start Earning Now
Fill in the first page of the form with your details and click Next
Fill in the second page of the form, explaining your audience's interests and how you will promote Fiverr (don't overthink this – it doesn't limit how you later promote your affiliate link)
Agree to the Terms of Privacy and click Register
And that's it! As soon as you submit the form, you'll be set up with a Fiverr Affiliates account. You can start promoting Fiverr in your content (and earning commissions) immediately.
When Can I Become a Fiverr Affiliate?
You can apply to become a Fiverr affiliate at any time. There's no requirement to have been a buyer or seller on Fiverr before becoming an affiliate. However, experience using Fiverr is essential to promoting its services in an authentic way that's useful to your audience.
Once you've registered for Fiverr Affiliates and started earning commissions, the next step is getting paid!
How Does Fiverr Pay Affiliates?
Fiverr pays affiliate commissions via PayPal, Payoneer, or to your bank account.
Fiverr will only pay commissions once a month on request. You also have to have earned over $100 before you can request payment.
Is Fiverr Affiliates Worth It?
If you have an established audience who would be interested in Fiverr, then joining Fiverr Affiliates is worth it. It's a good way to generate a largely passive income through your existing platform. It's also quick and easy to register.
Fiverr Affiliates is ideally suited to people who already have an established audience who would be interested in Fiverr's services. So, if your website already attracts some traffic or you have a decent social media following, you're the ideal candidate to become a Fiverr affiliate.
Like any affiliate program, there are pros and cons to Fiverr Affiliates. Overall, however, it's worth giving it a try to see if it works for you.
Advantages of Fiverr Affiliates
Free and Easy to Join
The application process to become a Fiverr affiliate is straightforward and only takes a few minutes to complete. You can then start earning a commission right away.
There's also no cost involved. So, you've got nothing to lose! If you sign up and later decide you want to leave the program, you won't incur any costs.
Potential Audience
Freelancers on Fiverr offer their services across 500 categories in 160 different countries. This means there are lots of opportunities to promote Fiverr's services, relevant to your audience's interests.
Access to Support
When you join Fiverr Affiliates, Fiverr will assign you an Affiliate Manager to help you navigate the program. Fiverr also offers online tutorials to affiliates so they can learn how to maximise their affiliate earnings.
Deep Linking Available
Fiverr also permits deep linking. This allows you to link to a specific service, rather than Fiverr's general homepage. You can incorporate more relevant links in your content, tailored to your audience's interests.
For example, if you're writing about SEO on your digital marketing blog, you can link directly to SEO sellers on Fiverr.
Disadvantages of Fiverr Affiliates
Must Earn $100 Before Withdrawing
You must earn at least $100 in commissions before Fiverr will allow you to withdraw your affiliate earnings.
Commissions for First Time Buyers Only
Fiverr only pays commissions for FTBs. So if someone with a Fiverr account but no previous Fiverr purchases clicks on your link, you won't receive a commission.
Fiverr Affiliates vs Fiverr Referral Program
Fiverr Affiliates involves partnering with Fiverr to promote its services on your site or platform. Fiverr's Referral Program rewards you with a one-off discount on Fiverr for referring another person to the site.
Like Fiverr Affiliates, to benefit from Fiverr's Referral Program, your referral must be an FTB. But that's where the similarities stop.
The main differences between Fiverr Affiliates and the Referral Program are:
The Referral Program is for individual (potential one-off) referrals you actively make. For example, you might refer a friend who is starting to freelancer to Fiverr. The Fiverr Affiliates is ongoing and passive. You don't actively refer buyers to the site, you do so by promoting affiliate links in your content.
The commission rates. If you refer someone to Fiverr, you receive 10% of their first order amount, up to $100. Fiverr Affiliates has several different commission structures, depending on the service bought.
You don't need to specifically register for the Referral Program. You just need an existing Fiverr account (as a buyer or seller). You can then use the link on Fiverr's website to refer people.
Referral commissions earn you Fiverr credits to use on your next purchase. Fiverr Affiliates' commissions are monetary. You can ask Fiverr to pay them to your PayPal, Payoneer, or your bank account.
Fiverr offers additional support to affiliates by assigning them an Affiliate manager. Fiverr affiliates also have access to online tutorials to learn how to maximise their affiliate earnings.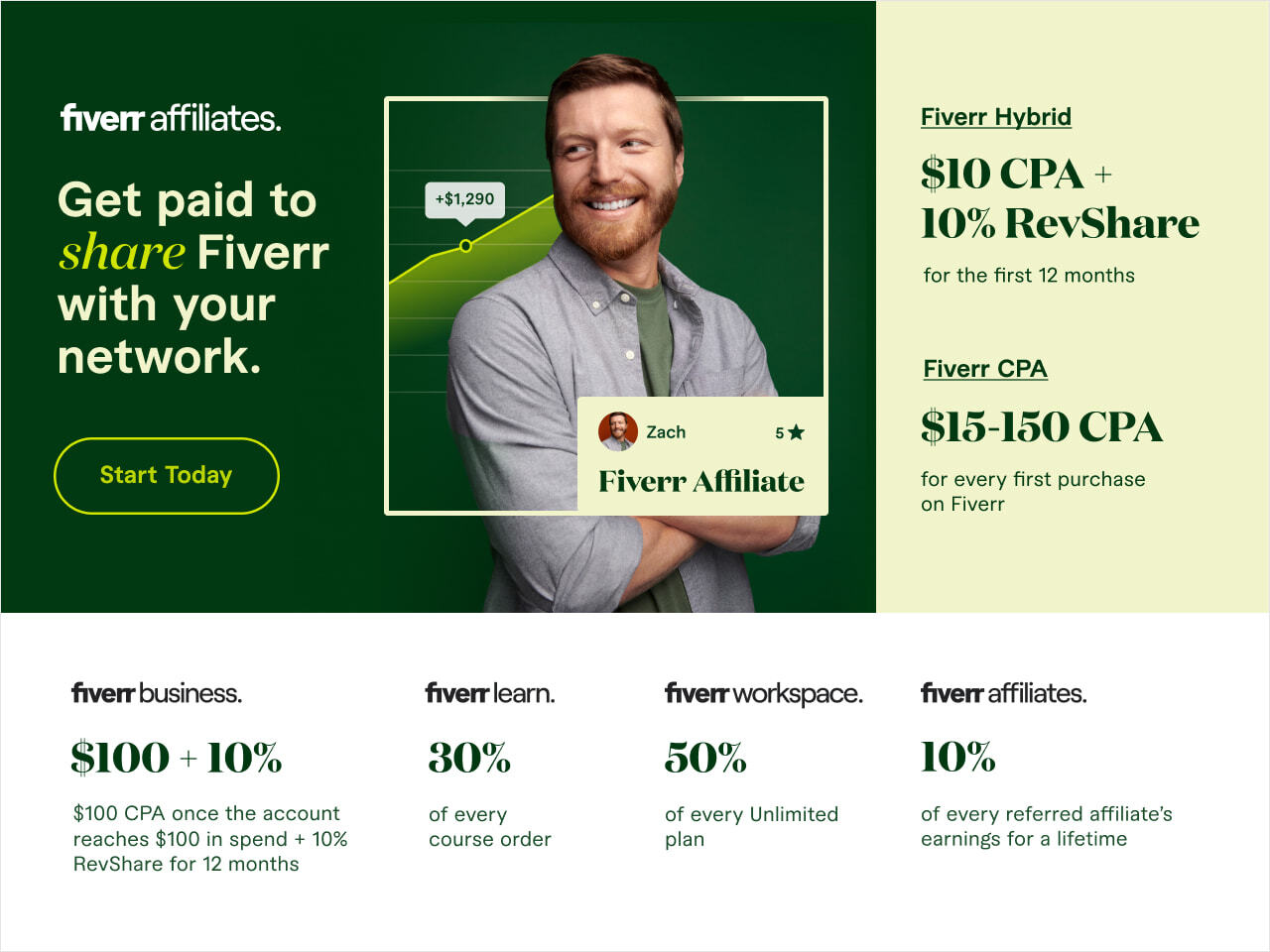 Fiverr Affiliates – A Great Source of Passive Income
Fiverr Affiliates is a great way to earn some passive income. It's quick and easy to register, and you can start earning a commission right away. It's especially ideal if you already have an audience thanks to your blog or social media accounts who may be interested in Fiverr.