Many people turn to online marketplaces to find freelance gigs, especially when they're first starting out as a freelancer. And for good reason! Online marketplaces are a great way to dip your toes into the freelancing world. It's also a great way to build up a portfolio and client base. So, let's find out how Fiverr works, and how you can use it within your freelancing career!
Fiverr works as a freelance marketplace, connecting buyers and sellers through gigs in a massive range of more than 500 categories. Buyers can approach sellers by searching for services and clicking on various gigs, and Fiverr may automatically match sellers and buyers too.
Fiverr is one of the most popular freelance markets out there and it's easy to understand why. It's user-friendly, intuitive, and free. In this article, we'll explain exactly how Fiverr works and go through each step in the Fiverr process, from creating gigs to receiving payment.
What Is Fiverr?
Fiverr is an online marketplace that connects freelancers selling their services with clients looking to hire someone for a project. It's an incredibly intuitive website where anyone can set up an account for free. Freelancers can post gigs for their services and set their fees. Clients can then browse through over 500 categories of services to find the freelancer they're looking for.
How Fiverr Works For Sellers
Fiverr is fairly straightforward for sellers. You create some gigs (more on them in a moment) and let the buyers come to you. It might sound simple, and that's because it is! Obviously getting orders will take more than just making a few basic gigs, but in terms of the process of operating on the platform, there's not much more to it.
You make gigs and tweak them to ensure buyers understand exactly what services you have to offer. You can make up to seven when you first start, but this number increases as your Fiverr seller level increases. You essentially 'level up' on the platform by getting more sales, gaining positive reviews, and being on the platform for a given amount of time.
If you want to learn more about the Fiverr platform as a beginner and how you can succeed as a freelancer, our ebook goes into detail on everything from getting started on the platform to dealing with clients.
How you process your orders will obviously vary depending on the services you offer, but it all takes place on the platform. You can interact with the buyers throughout the process, and then you can submit your work directly through the order page. The buyer can then request revisions (the number of which can be set by your gig conditions) or they can mark the order as complete. Then, you get paid!
But before we talk about money, let's take a closer look at the gigs you create.
How To Create Fiverr Gigs
"Gigs" are jobs or projects on Fiverr. Once you've set up a Fiverr account as a seller, you can create up to seven different gigs. This is especially useful if you're still figuring out your niche! So, let's look at how to create your first gig.
1. Choose A Title For Your Gig
First, you need to choose a good title for your gig. Titles on Fiverr automatically start with "I will". So, for example, if you want to write small news articles you can write something like, "I will write your interesting bite-sized news articles".
Then you'll have to choose a category, subcategory, and tags for your gig. These help potential clients to find your gig easily.
2. Set Your Price
You'll next need to set the price for your gig. On this screen, you can specify exactly what your price includes, including delivery time, research, and the number of revisions the client can request. You can also create different package levels (basic, standard, and premium) depending on your level of expertise and what's included in your gig. You can also add additional services for extra fees.
3. Describe Your Gig
Next, briefly describe your gig, what exactly it is you're offering, and why you're the best person for the job. Try to keep it short but catchy. This is your chance to really sell yourself to potential buyers!
There's also an FAQ section where you can add any potential questions buyers might have. By thinking of any queries your gig might raise and answering them right away here, you're saving both your clients and yourself time and effort later down the line.
There's also a section where you can leave questions for the buyer. For example, you might ask:
Do you require sources?
Do you require images?
Should I use US or UK English in the article?
Again, thinking of these issues now will save you time later!
4. Confirm Your Skills
Depending on the services you're offering, Fiverr might ask you to confirm your skills. This allows Fiverr to confirm you're able to deliver the gig you're offering, and not advertising skills you don't actually have. If you want to spruce up your gig you can add a few images, a descriptive video, or a few PDF documents, such as relevant portfolio pieces.
Withdrawing Money On Fiverr
So, you've sold and completed a gig. But how do you get paid? Firstly, your fee won't be readily available for withdrawal as soon as you've completed a gig. Fiverr holds the buyer's funds for 14 days to ensure they are happy with the work before releasing them to you, and to cover for things like PayPal refunds and chargebacks.
Once the funds are available, click on the Earnings tab. You can withdraw your available Fiverr funds using PayPal, Fiverr Revenue Card, or bank transfer.
Keep in mind that Fiverr takes a percentage of the payment for their fees. For sellers, this means you get 80% of the gig's sale price. Fiverr charges sellers 5.5% of the total value if the gig is over $40, and an additional $2 if it's less than $50. You can use our handy Fiverr fee calculator to see how much you'll earn as a freelancer or how much you'll need to pay extra as a buyer.
Let's now talk a little more about how Fiverr works for buyers.
How Fiverr Works For Buyers
Searching For Gigs On Fiverr
If you're a Fiverr buyer, it's very easy to find the right person for the job. Fiverr's homepage automatically recommends several freelancers and gigs on offer, but you can also search for exactly what you're looking for. As an example, say you're looking for someone to create a minimalist logo for your brand.
When you enter your keywords in the search tool, you'll get a list of all services available. You can filter gigs by budget, delivery time, and seller rating. Once you've found the right freelancer, you can then contact them. You can place an order right away, or you can reach out to them first. This is the best way to do it, as you can iron out all the details of the project before work begins.
Communicating On Fiverr
If you're interested in a seller's gig but want more information, you can contact the seller privately and ask any questions you might have. Fiverr displays sellers' average response times on the gig page, so you'll know roughly how long it will be before you hear back from them. It's easy to communicate with buyers and sellers on Fiverr!
Once you find a seller you're happy working with, you can place orders through their gigs directly or you can ask them to set up a custom offer for you. This is the easiest way to pay only for the services you need. While not all sellers offer this, many do, and it never hurts to ask. It will likely suit them better as well.
Getting The Job Started
Once they start the work, you can keep in touch with them just as easily through the platform's messaging service. Then, once the seller submits the work, you can review it. Obviously how you do this will depend on the nature of the work, as you might have to download a file for example. Once you're satisfied with the work, you can mark the order as complete, and the money will make its way to the freelancer.
Alternatively, you can ask for revisions until the seller completes the work per your requests. Note that sellers usually only offer a few revisions per project, so to avoid any confusion, it's best to ensure you give them clear and complete instructions from the start.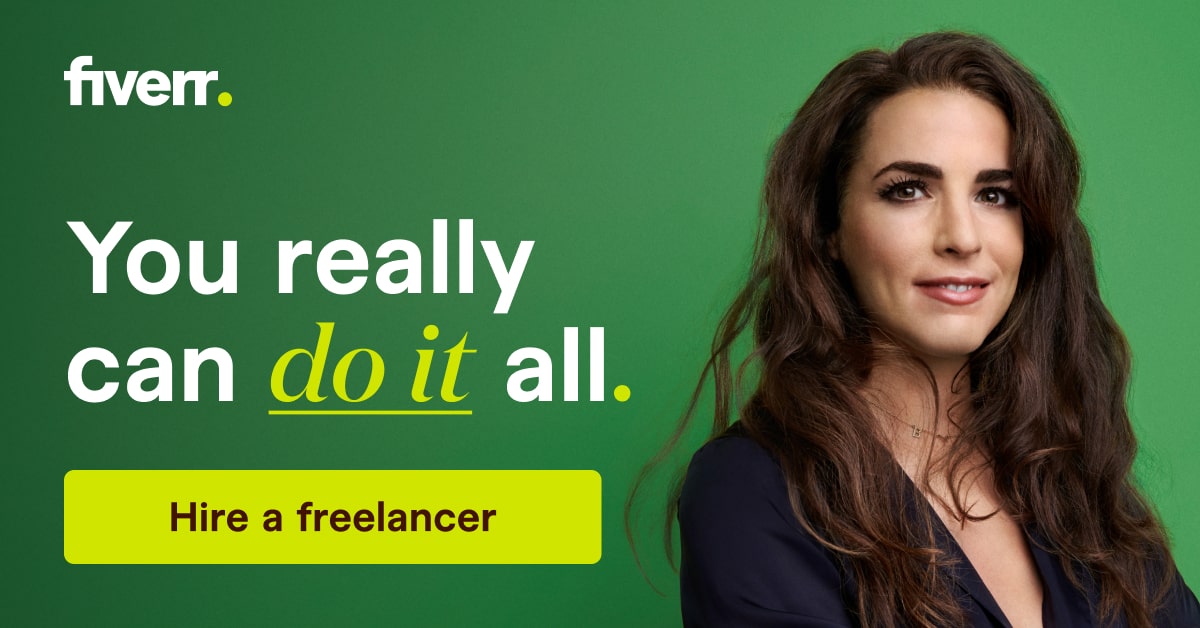 How Fiverr Payments Work
Fiverr payments are pretty simple, with the process being fairly painless for both buyers and sellers. You'll need to pay a 5.5% fee as a buyer, and Fiverr takes a 20% cut of your order price if you're a seller. These are non-negotiable rates, and it's essential that you're aware of them from the start.
Aside from these fees, all you need to know as a buyer is that your money will only make its way to the seller once you mark the order as complete. If you're a seller, you'll get access to your funds after a 2-week pending clearance phase (it's one week for top rated sellers). Then, you can withdraw your earnings via a variety of methods, including PayPal and Payoneer.
Is Fiverr Legit?
Fiverr is legit, as the business has been around for a long time now and is publicly traded on the New York Stock Exchange. The platform has real freelancers offering real services, and they have measures in place to keep both buyers and sellers safe.
Tips For Fiverr Beginners
Whether you're a first-time buyer or a first-time seller, bear these tips in mind to get your Fiverr experience off to the best possible start:
Never lie on your gig descriptions
Be clear about what you need from the buyer/seller from the start
Always kind and courteous to the other party
Never try to take payments or communication off the platform
Make full use of the gigs you have available to use
Don't settle for the first gig you come across – shop around!
Final Thoughts
For beginners, Fiverr is a great platform to use to kickstart your freelancing career. And now that you know the basics of how Fiverr works, you can start today!
We also have articles comparing Fiverr to Upwork and Freelancer.com if you want to learn more about other freelance marketplaces out there!