Fiverr is one of the most popular online marketplaces to find freelancers. But transacting online always comes with risks, especially when it comes to payment. So, it's natural to wonder how safe the platform is.
Fiverr is generally safe to use, as long as you conduct all transactions and communication within the platform. While scammers do operate on the site, there are steps you can take to limit the risk of being targeted by them.
In this article, we take a look at the steps Fiverr takes to keep both its buyers and sellers safe when it comes to payments and personal data. We also look at what you can do to avoid being scammed.
First, let's take a look at the safety measures Fiverr uses to protect buyers and sellers.
How Safe Is Fiverr?
Fiverr is very safe, if you conduct all transactions within the platform and in line with Fiverr's terms and conditions. Fiverr has policies and procedures in place to protect any payments, credit card details, and communication shared on the platform.
Fiverr has several procedures in place to ensure the safety of its users. One of the main ways is through its secure payment platform.
Payments
Under its business model, Fiverr acts as a middleman between buyers and sellers. When a buyer purchases a gig, Fiverr holds their funds, only releasing them to the seller once both parties agree the work is complete.
When funds are initially put into a seller's account, they remain pending for 14 days. During this time, if a buyer is unsatisfied with the work they can raise a dispute. Once these 14 days are up, the seller can access and withdraw the funds from their account.
This payment model protects both buyers and sellers. It ensures personal and payment details are only shared with Fiverr. It also reduces the risk of a buyer failing to pay for work done by a seller. Or, conversely, a seller taking a buyer's money without completing the work. In exchange for providing this protection, Fiverr takes a cut of the gig fee.
Credit Card Details
All transactions on Fiverr are encrypted and secure. Fiverr is a Level 1 Payment Card Industry (PCI) Data Security Standard service provider. Processing over 300,000 credit card transactions each year, Fiverr is subject to strict data security requirements. This includes an annual review of its PCI compliance.
Communication
Fiverr also allows buyers and sellers to communicate and share files through its secure messaging platform. This gives you a record of all interactions, in the event any issues later arise.
In addition to protecting your financial details and communication, Fiverr has strict policies when it comes to your personal data.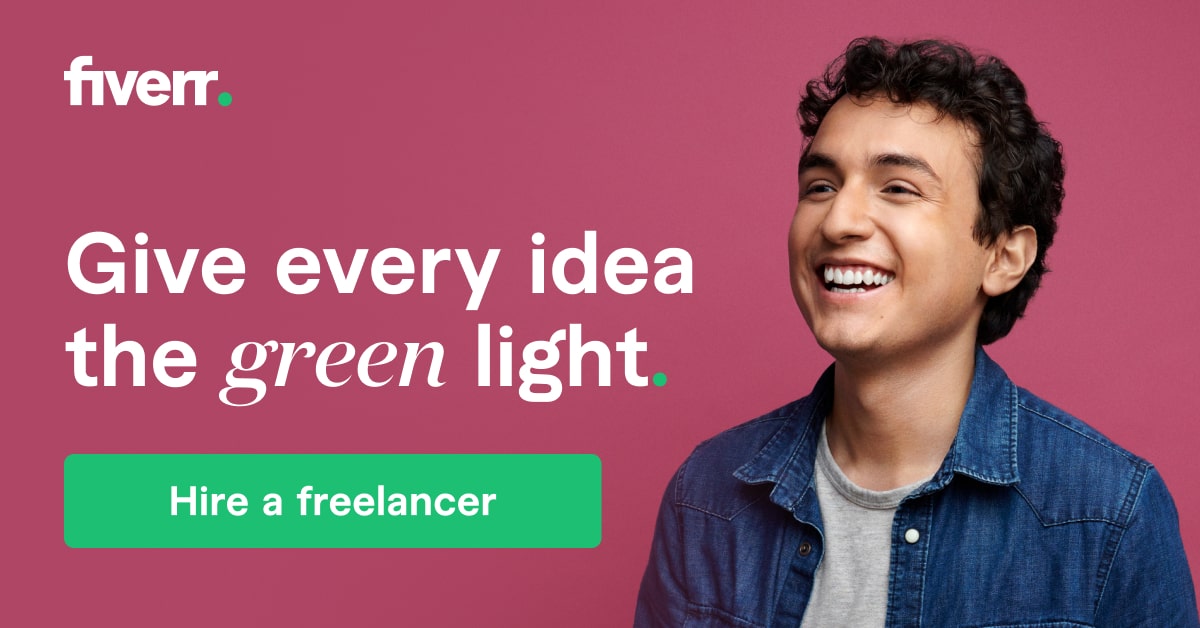 Is Your Personal Data Safe on Fiverr?
Your personal data is safe on Fiverr. Fiverr has a detailed Privacy Policy committing to protecting your personal data and outlining the steps it takes to do so. This privacy policy complies with the requirements of the major data protection laws.
Fiverr's Privacy Policy sets out how it collects, stores, and uses your data. It also explains how you can access your personal data and make requests to modify or delete it (you can also delete your Fiverr account). Fiverr retains your personal information only for as long as necessary for the purpose it was collected for or as required by law.
This policy complies with both the EU's General Data Protection Regulation (GDPR) and California Consumer Privacy Act (CCPA). These two pieces of legislation are the strictest in the world when it comes to data protection.
Fiverr has strong data security processes in place to prevent your personal data from being accessed. Fiverr doesn't share your personal information with third parties without your permission. But Fiverr can only control and protect the personal data it collects.
Never Share Personal Data With Other Users
Users are responsible for the information they share with others on the platform. For this reason, you should never share bank account or credit card details, physical addresses, or passwords with other users.
In addition to these security measures, Fiverr protects users by allowing buyers and sellers to cancel orders.
Can Fiverr Orders Get Cancelled?
Fiverr orders can be cancelled because:
One party has stopped communicating
The buyer has not given the seller the information they need to complete the order
The seller is unable to complete the order for personal or technical reasons
The seller has not completed the order in time
Both buyers and sellers can cancel an order on Fiverr if they provide a good reason to do so.
Buyers and sellers can make a cancellation request through Fiverr's Resolution Centre. The request is sent to the other party to accept or reject. The party requesting the cancellation should include as much detail as possible in their request.
Where both parties agree, the order is cancelled. If a party rejects the cancellation request, Fiverr's Customer Support team may become involved. The other party has 48 hours to respond to a cancellation request. If they don't, the order is automatically cancelled.
As you can see, Fiverr takes several steps to ensure it's a safe space for users. Let's take a look at what this means when it comes to scammers on the platform.
Can You Get Scammed on Fiverr?
Like any online platform, it's possible to be scammed on Fiverr. However, Fiverr has several policies and procedures in place to reduce the risk of this. There are also several steps you can take to avoid being scammed on Fiverr.
Given the volume of transactions, Fiverr can't monitor every gig and interaction between a buyer and seller. For this reason, scammers do operate on the platform.
Fiverr tries to minimise the risk of this by holding payments until both parties agree a gig is complete. The seller rating system is also designed to ensure only legitimate sellers appear on the platform.
While Fiverr takes a range of steps to protect users, it acknowledges that scams can happen. So, it encourages users to keep an eye out for red flags and contact their Customer Support team with any concerns.
In addition to what Fiverr does, there are several steps you can take to reduce your risk of getting scammed.
Tips To Avoid Getting Scammed on Fiverr
Tips for Sellers
Always Transact on the Platform
Communicating or receiving payment outside of the platform is against Fiverr's terms of service. It's also a red flag if a buyer wants to do so and may indicate they're a scammer. As a seller, if you engage with a buyer outside of the platform and are caught, you risk having your account banned by Fiverr.
Communicate Clearly With Buyers
This applies both to your gig and when answering any questions a buyer may have. This reduces the risk of misunderstandings or mismatched expectations down the track.
For more tips on getting the most out of the platform, check out our Fiverr ebook here. It's packed with tips for beginners and experienced freelancers alike, with the goal of helping you make more money on Fiverr.
Tips for Buyers
Never Transact With a Seller Outside of the Platform
The same rule applies to buyers – conduct all transactions on Fiverr's platform. In addition to violating Fiverr's terms of use, this also raises alarm bells about the legitimacy of the interaction. If a seller suggests an upfront payment or using another payment method outside of the platform, you should report them to Fiverr.
Always Review a Seller's Rating
One of the most reliable ways to check whether a seller is legitimate is by looking at their rating. If they have lots of negative reviews or the reviews look odd, then their gig may be a scam. A review that seems to be a generic template or a new seller who already has hundreds of reviews might raise alarm bells.
Fiverr has a rating system that's also useful for identifying legitimate sellers. A Level One, Level Two, or Top Rated badge indicates the seller has received high ratings and produces quality work.
You should also always request examples of previous work from a seller. If they don't have these displayed on their profile or they can't provide them, the gig may not be legit.
Ask the Seller Any Questions You Have Before Buying a Gig
Before you purchase a gig, make sure you read the gig description and seller's FAQs closely. This helps you to understand whether they're the right person for the job. If you're unsure about anything or want to speak to the seller in detail about your project, message the seller with your questions.
Clarifying any issues before committing to a gig (and paying any money) is the best way to ensure you and the seller are on the same page and minimise the chance of problems arising.
Be Wary of Gigs That Promise the World
If a gig promises to achieve something unrealistic, either in terms of product or turnaround time, it may not be legit. While Fiverr aims to offer services at an affordable price, an inexplicably low price may indicate a scam. If the gig seems too good to be true, it often is!
Only Mark an Order as Complete When It's Done
While it sounds obvious, only mark an order as complete when it actually is. A recurring Fiverr scam involves sellers asking buyers to mark a gig as complete for various reasons, even though it's not.
Fiverr releases the money to the seller once you've marked a job as complete. If you later realise the seller has scammed you, you have 14 days to raise any issues. But it's best just to avoid this situation in the first place.
Report Any Suspicious Activity
Whether you're a buyer or a seller, if you believe someone is violating Fiverr's terms of service, you should report them to Fiverr Support. This helps Fiverr address any problematic users and improves the overall experience on the platform.
Reporting violations may also result in a refund of any money you've paid. At the very least, it helps Fiverr deal with potential scammers so other users won't have the same experience!
In addition to scams, there are also certain kinds of gigs you should always avoid buying.
Types of Gigs You Should Avoid on Fiverr
There are several kinds of gigs you should avoid on Fiverr:
Buying backlinks, followers, likes, or subscribers. The algorithm detects these as spam and penalises your ranking in the SERPs
SEO work that promises unrealistic results. Sellers advertising these gigs often use black hat SEO techniques that can negatively impact your ranking in the SERPs in the long run.
Gigs that violate Fiverr's terms of service, including adult-orientated service or misleading or deceptive gigs. If you buy these types of gigs, Fiverr may suspend you from the platform.
By avoiding these gigs, you should be able to enjoy Fiverr safely and securely.
Fiverr Is a Safe Online Marketplace
Hopefully, this reassures you that Fiverr is a trustworthy, safe platform to use as a buyer or seller. Fiverr overs a high level of protection for payments and personal data it collects. Like every internet-based service, there is always a risk of getting scammed. But if you conduct all your transactions on the platform and stay alert, you can avoid falling into a trap!